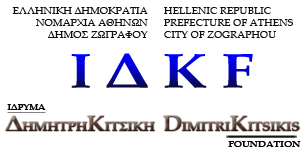 Monday October 2 2023, Athens Greece
Short Biography
-
Full Biography
-
Interviews
-
Autobiographies
DIMITRI KITSIKIS
«Dès l'âge de 15 ans, interne au lycée Lakanal, à Sceaux, j'avais pratiquement tout lu de Rousseau et les larmes aux yeux je fus persuadé que j'étais sa réincarnation. Depuis lors, au fur et à mesure de ma carrière, jusqu'à aujourd'hui, à 84 ans, poursuivi par l'incompréhension et la haine de tous, je savourais ma situation de persécuté, surtout dans ma Genève d'origine, la Grèce obtue et décadente. Je sais qu'après ma mort une révolution de type robespierriste me ménera au Panthéon grec, tout en perpétuant ma légende d'intellectuel jamais vraiment compris. Saint Jean-Jacques, j'ai reçu en moi ton âme en métempsychose pour l'éternité. Dimitri Kitsikis»
Professor emeritus of the University of Ottawa, Fellow of the Royal Society of Canada, historian, poet and scholar of international stature, Dimitri Kitsikis is a Turkologist, Sinologist and specialist of international relations.
He is considered one of the three top geopolitical thinkers worldwide, of the 20th century, together with Karl Haushofer and Halford Mackinder.
Family and personal life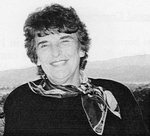 His elder sister Beata Kitsikis Panagopoulos, born in 1925,professor emeritus San Jose State University, California, USA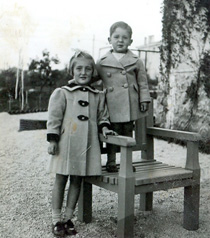 With his sister Elsa in Athens (1938)professor at the University of Geneva,Switzerland,born in 1933
Dimitri Kitsikis was born in Athens, Greece, to Beata Petychakes and Nikos Kitsikis on June 2nd 1935. He is the youngest of three children after his two sisters, Beata Maria and Elsa.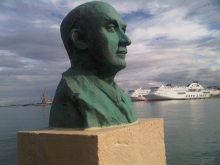 Nikos Kitsikis' statue, on the waterfront of Herakleion harbour, erected in 2003
Nikos Kitsikis (1887-1978), born in Nauplion, professor and rector of the Polytechnical School in Athens, was a senator and Member of Parliament. His father, Dimitri Kitsikis senior (1850-1898), chief justice, had settled in Athens from Lesbos in 1865 where he married Kassandra, the sister of Dimitri Chatsopoulos, Member of Parliament from Karpenesi.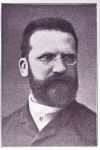 Dimitri Kitsikis, senior (1850-1898)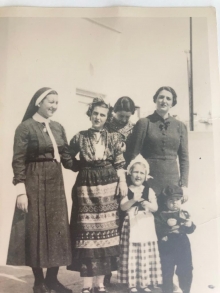 1937 Carnival in Athens: Dimitri (age 2), Elsa, Beata-daughter, Violette, Dimitri's Swiss gouvernante (from Geneva), in her uniform (left), Beata Merope Petychakis-Kitsikis-the mother (right).Head, behind the mother, Aspasia, the maid and wife of the family's chauffeur
Beata Merope Petychakis (1907-1986), a famed feminist and ELAS fighter against the German occupation of Greece, was born in Herakleion, Crete, from a wealthy Cretan family who married Greek Italian nobles from Trieste of mixed Roman Catholic and Orthodox origin. Her father, Emmanuel Petychakes had founded a beverage production plant in Cairo, Egypt, where he married Korinna, the daughter of count David d'Antonio (Antoniades), originating from Trieste, and her stepfather Aristeides Stergiades (1861-1949) was the High Commissioner of Greece in Smyrna from 1919-1922.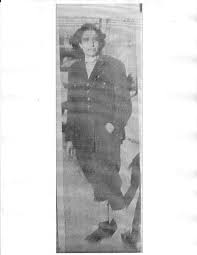 Beata Petychakis-Kitsikis, mother of Dimitri Kitsikis, in 1944, in the mountains of Greece, as a communist fighter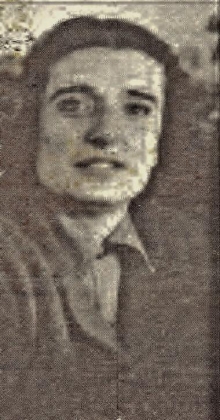 Beata Petychakis-Kitsikis, mother of Dimitri Kitsikis,in front of the military court in 1948, hearing her death condemnation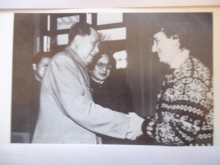 Beata Petychakis-Kitsikis, mother of Dimitri Kitsikis, with Chairman Mao Zedong in 1966
Today, the "Nikos Kitsikis Library and Archives", reside in the home of Aristeides Stergiades in Herakleion. Nikos Kitsikis' statue is placed at the entrance of Herakleion harbour which, as an engineer, he built in 1920.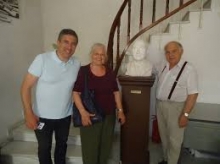 Another statue of Nikos Kitsikis. Here,at Stergiades's home with Ada Kitsikis on left and Dimitri Kitsikis on right.The head of the Technical Chamber of Greece (TEE) of Herakleion, Petros Iniotakis is first from left
Both of Dimitri Kitsikis' sisters are prominent scholars as well. Beata Maria Kitsikis-Panagopoulos retired as Professor of History of Art from the State University of California San Jose, USA. Elsa Schmid-Kitsikis is psychonanalyst and retired Professor of Psychology of the University of Geneva, Switzerland. As one of the main world Piagetists, she had been a long-time collaborator of Jean Piaget (1896-1980) in Geneva.

1955-Marriage in Scotland of Anne Hubbard and Dimitri Kitsikis, August 30, 1955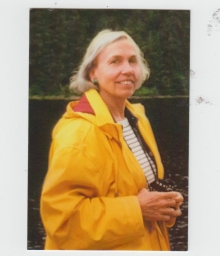 Anne Hubbard-Kitsikis
Dimitri Kitsikis and his first British wife Anne Hubbard, the daughter of a chief justice, were married in the Greek Orthodox Church of Glasgow, Scotland, in 1955. The couple's first child, a daughter, Tatiana Beata, was born in 1960, followed by a son, Nicolas, in 1962. Nicolas has been a Vaishnav since adhering to the Hindu religion in 1984. While he lives with his Hindu wife Varuni in the Vaishnav community of Gainesville, Florida,as well as in Bengal, India (with their son Sadhuvasi and their daughter Ksanavani), his sister, Tatiana, resides in Montreal, Canada (with his son Stephane). Dimitri Kitsikis and Anne Hubbard divorced in 1973.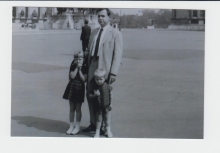 Vienna,Austria,1965,12th International Congress of Historical Sciences - Dimitri Kitsikis with his two first children,Tatiana and Nicolas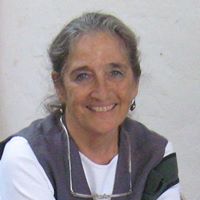 Cali Doxiadis,daughter of urbanist Konstantinos Doxiadis, second compagnon of Dimitri Kitsikis, 1973-1974
Dimitri Kitsikis' second wife, Ada Nikolarou, is the daughter of a farmer from the historical Byzantine town of Mystras, near Sparta. The couple got married in 1975 at the Greek Orthodox Church of Ottawa, Canada. Their son, Agis Ioannis, was born in 1979 and was married in Toronto, in 2017, to an Iranian girl, Shahrzad Ardakani. Their daughter, Kranay Maria, was born in 1982, and was married in 2013-2015 in the Greek Orthodox church of Bologna, Italy, to Dr. Francesco de Leonardis. Italian physician.They have two children, Markos and Sophia.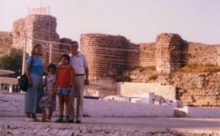 1988-İsparta-Eğridir, Turkey - Ada and children Kranay & Agis, with Milliyet journalist Doğan Çelik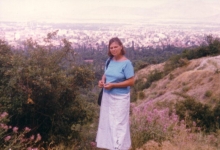 Ada Kitsikis,Isparta,Turkey
Dimitri Kitsikis holds citizenships from Greece, France and Canada. He lives both in North America and Europe, splitting his time between Ottawa, Paris and Athens.
Early life and career
In 1940, at the age of five he starts schooling in Kolonaki the aristocratic district of Athens, where his family lives during the winter time,at the private famous school of Makris-Panagiotopoulos.and in 1946-1947 he starts his secondary education at the Athens College, in Psychiko district, a Greek-American Institution, from where he is sent, on November 1, 1947, to Paris.
http://interactive.impschool.gr/history/
https://en.wikipedia.org/wiki/Athens_College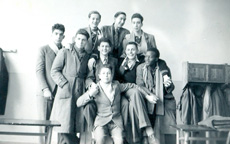 With classmates at the Lycée Lakanal in 1950 (2nd row, first from left)
During the Greek civil war,in 1947, at the age of 12, he is sent to a boarding school in France, by Octave Merlier, the head of the French Institute in Athens, because his mother had been condemned to death as a communist fighter.
He spends his first year in France as an intern at the École des Roches in Normandy before transferring for the next four years (1948-52) to the Lycée Lakanal in Sceaux, near Paris. His last high school year is at the Lycée Carnot, in Paris, from where he obtains the French Baccalauréat in 1953.
1950-Δημήτρης Κιτσίκης μὲ Davoud Rashidi, μέγιστο ἠθοποιὸ ἰρανικοῦ κινηματογράφου,1933-2016, στὸ Lyc
Dimitri Kitsikis wrote:"Davoud Rashidi, the famous Iranian film actor (1933-2016), was a a very close friend of mine since we were children. We were brought up in the public school of Lycée Lakanal, Sceaux, in Paris, and later, as students, in Geneva. We reunited again as successful adults in Tehran.Iran was for the two of us the common fatherland of Alexander the Great, king of the Persians and the Greeks.Since then, my son Agis (bearing the name of Agis IV, king of Sparta)married beautiful Shehrazat from Tehran. Hellenism looses its importance when it is kept in the narrow borders of the Athens state. It needs planetarian horizons".
In Geneva (1953)
Initially registered in both Medicine and Arts departments during his first two years – which he spends in Paris and then in Geneva – he finally graduates with an Arts degree in 1958 from the University of the Sorbonne, in Paris. While pursuing his doctoral studies in Paris, he works from 1960 to 1962 as a research assistant at the Institut Universitaire de hautes études internationnales in Geneva. After receiving his doctorate in 1962 from the Sorbonne, he returns to Paris to accept a research position at the Fondation Nationale de Science politique. He parallelly starts teaching, as an assistant at the Sorbonne. In 1965 he leaves the Fondation Nationale de Science politique to become a researcher at the Centre National de la Recherche scientifique (CNRS).
During the 1960s and early 1970s, Dimitri Kitsikis is a close friend and advisor of Greek Prime Minister Konstantinos Karamanlis senior (1907-1998, later President of Greece), who lives in exile in Paris at the time.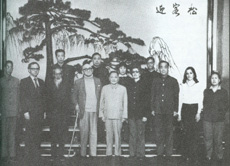 With the Greek delegation in Beijing in 1974 (1st row, 2nd from left)-4th, with cane, Nikos Kitsikis, 5th, Deng Xiaoping, 6th, Beata Kitsikis, 8th, Cali Doxiadis
Having traveled – through the Greece-China association founded by his mother – to the People's Republic of China as part of Greek official delegations from 1958 to 1974, Dimitri Kitsikis becomes a committed Maoist and keeps close ties with leaders Mao Zedong and Deng Xiaoping. In 1968, he is expelled from the French University for his active participation as a Maoist in the French student revolt of May 68. Being informed that his contract with the Centre National de la recherche scientifique and the Sorbonne will not be renewed after 1970, he looks for jobs abroad.
Finally he accepts, in 1970, an Associate Professor position with the University of Ottawa, becoming full professor in 1983. During the first years in Canada, he also teaches – commuting between both cities – as an invited Professor at the Laval University in Quebec City.
Since moving to Canada, he has been living and working both in North America and Europe, splitting his time between Canada, Greece, Turkey and France. While holding his position and affiliation at the University of Ottawa, Dimitri Kitsikis regularly travels to both Greece and Turkey for short visits, or is invited for longer stays to teach and do research.
From 1972 to 1974 he is a senior resident researcher at the National Institute for Social Studies in Athens.
Aiming to resolve the Cypriot issue, he is – during the summer of 1975 – the unofficial ambassador of the Greek Government in Cyprus and Turkey.
He teaches, from 1976 to 1978, at the Deree College (the American University) in Athens, and during the 1980-1981 period, at the Boğaziçi University in Istanbul.He is consequently invited at the Bilkent University in Ankara where he teaches in 1991-92
Starting in 1990, he becomes a close friend and advisor of the President of the Turkish Republic, Turgut Özal.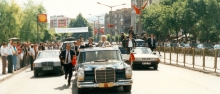 Triumphant entrance in Kayseri (Turkey),in 1990, of Turgut Özal with Dimitri Kitsikis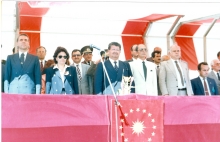 President Özal and Dimitri Kitsikis at an official ceremony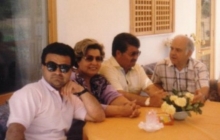 President Özal with Dimitri Kitsikis spending holidays together with Özal's wife Semra and his son Ahmet
Professor Kitsikis officially retires from the University of Ottawa in 1996. The same year he is elected Professor Emeritus. He keeps his office at the University and continues to teach at the undergraduate and graduate levels, being still a member of the Faculty of Graduate and Postdoctoral Studies. Since 2006,he also teaches every year,to elder students at the Académie des Retraités de l'Outaouais (ARO), in Gatineau, Québec.
In 1999 he is elected Fellow of the Royal Society of Canada.
Invited by the government of Yugoslavia, he is an international observer in Belgrade for the national elections in September 2000. Although representing Canada, he is part of the Greek delegation that leaves Athens, alongside with Karolos Papoulias, later President of Greece.
In September 2008, the Greek government honors him by formally establishing the Dimitri Kitsikis Public Foundation in Athens by way of presidential decree.
Philosophy, Thought & Achievements
Since he was a child Dimitri Kitsikis had an idée fixe. He wanted not only to reconcile Greeks and Turks but also to unite them into a Greek-Turkish Confederation and to revive the Ottoman Empire. As early as the 1960s, he had been the recognized theorist, first in Greece and then in Turkey, of the idea of a Greek-Turkish Confederation, which he had promoted by influencing statesmen, politicians, journalists, artists and thinkers in both countries. His books in Turkish became best sellers in Turkey and were praised by Prime Minister of Turkey, Mesut Yilmaz. He kept close ties with Prime Ministers Karamanlis senior of Greece and Turgut Özal of Turkey. His books in Greek created one of the greatest controversies ever encountered in Greek historiography. They were even debated in the Greek Parliament. The well-established notion of Greeks enslaved by Turks, as well as a series of beliefs on the Ottoman Empire that had been traditionally taught in schools and universities throughout Greece, such as the story of the so-called "secret school," were strongly questioned through his writings.

Love expands,hatred shrinks - Dimitri Kitsikis
Born in an atheist family of intellectuals and public figures, Dimitri Kitsikis' religious views developed throughout his life and, as an adult, he became a devout Orthodox Christian. Although a member of the official Church of Greece, he always sympathized with the Old-Calendarist movement, the adherents of which reject the Church's use of the Gregorian (New) calendar and maintain a traditionalist attitude towards Christian life and worship. As Orthodoxy prevailed over the heresy of Iconoclasm in the 9th century and restored the use of the icon in Christian worship, he stands convinced that the Old Calendar will once again be adopted by those Orthodox Churches which rejected it in the earlier part of the 20th century.
He has insisted on the religious phenomenon as an essential component of international politics and strove by conferences and other means to facilitate the collaboration of religious communities, as in the millet system of the Ottoman Empire. He particularly believes in a dialogue between the four main religions of Judaism, Christianity, Islam and Hinduism. He organized Orthodox dialogues with Shia Muslims in Iran and Hindu vaishnavs in India. He worked closely with Turkey's Sunnis and Alevis, with Israeli Jews and fundamentalist Catholics from Quebec, where he, along with his students, produced the quarterly journal "Aquila" (eagle) which, with a double-headed eagle on the front cover promoted the byzantine imperial idea amongst catholic circles. Finally, in order to form a basis for a future political union between Athens and Ankara, he came to sympathize with the Turkish religion of Bektashism-Alevism and saught to ally it with Orthodoxy.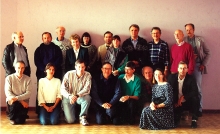 1994 - Dimitri Kitsikis,standing first on the left.Professors,Department of History, University of Ottawa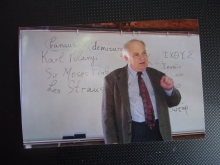 2013 - Dimitri Kitsikis teaching in Ottawa, March 2013
Everywhere and at all times, the idea of a global Hellenism is prevalent in his work. His teaching is aimed at globalizing Greek thought in the present world.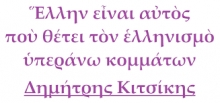 Is Greek he who puts Hellenism above parties - Dimitri Kitsikis
While his father, rector of the Polytechnical School, was a Leftist Member of Parliament, Senator and elected Mayor of Athens, Dimitri Kitsikis is averse towards the parliamentrary system, which he regards as foreign to the Greek model of a government by the people or laocracy.
According to French Professors Pierre Renouvin and Jean-Baptiste Duroselle (Introduction à l'Histoire des Relations internationales, Paris, A. Colin, 1964), he has been the initiator in France of the branch of the History of International Relations that deals with propaganda and pressure as a government weapon of foreign policy. He also opened the way to the study of technocracy in international politics.
He has created a model for a new approach of the three political ideologies of Liberalism, Fascism and Communism, and has published on the history of China. He is the founder of the branch of study known as Photohistory. He is also a recognized poet with six books of poetry. In 1991 he was honored with the first Greek-Turkish prize for poetry Abdi İpekçi, a Turkish journalist who had been shot dead by terrorists. Three of his poetry books, became part of an anthology of 32 Canadian poets by H. Bouraoui and J. Flamand (eds), Ecriture franco-ontarienne d' aujourd' hui, Ottawa, Les Editions du Vermillon, 1989.
He is the founder of four concepts that revolutionized the history of the Greek-Turkish Area: a) The "Intermediate Region" of civilization, extending from the Adriatic Sea to the Indus River, between the Euro-American West and the Hindu-Chinese East. A published Ph.D. dissertation in German took as its subject this new concept (P. Davarinos, Geschichtsschreibung und Politik, Düsseldorf, Heinrich Heine University, 1995) and the Royal Society of Canada recognized its originality by electing him a fellow of the Society in 1999. b) Eastern Party versus Western Party as an antagonist couple; c) Hellenoturkism as an ideology and as a phenomenon of civilization for the last one thousand years; d) Bektashi-Alevi religious origin of the Ottoman Dynasty, the islamization of which developed hand-in-hand with its secularization and westernization.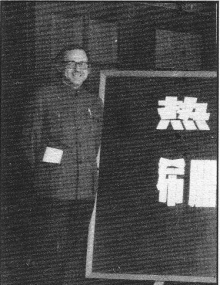 Dimitri Kitsikis,Maoist in China
In 2007, his 34th book under the title, "A Comparative History of Greece and China from Antiquity to the Present" was published in Greek. This unique work shows the relationship between the two civilizations throughout their history spanning three millennia and focuses on two concepts: the Greek-Chinese civilization in a planetary context and its political expression during the last 2500 years, that is, the ecumenical empire as the ideal organizational model.
Author of 37 books as well as hundreds of scholarly articles and co-author of many dozen books, on subjects such as international relations, the Middle East, geopolitics, political ideologies, religion and especially Turkish and Chinese history, his publications, mainly in Greek, French, English and Turkish have also appeared in Spanish, Portuguese, Serbian, Bulgarian and Russian. Interviews with him have also appeared in Chinese.
He contributes regularly with political articles to Greek magazines and since 1996, publishes in Greek a quarterly journal of Geopolitics named after his civilization model, "Intermediate Region".
Human Rights
(Extract from Prof. E.P. Dimitras's paper presented at the conference on Academic Freedom of Speech, Panteios University, Athens, 31 October 1992):
"A Greek professor at the University of Ottawa, specialist in Greek-Turkish History and a visionary of a Greek-Turkish reconciliation, Dimitri Kitsikis (incidently a classmate of Duroselle) found many publishers for his studies in Greece, but not in Turkey. Nevertheless, in Greece, he was not able to become a professor because of his views on Greek-Turkish relations that are not compatible with the prevailing ones among the majority of Greeks. It is noteworthy that, for nearly two decades, Professor Kitsikis has been teaching in Canada, as well as in Turkey where, two years ago, President Özal appointed him (unpaid) scientific advisor. In Greece, as well as in Turkey, Professor D. Kitsikis has been the target of attacks by academics and journalists : in Greece they considered him a suspect Turcophile and in Turkey a suspect Greek".
Supporter of World Spiritual Leaders Khomeini and Gülen
Kitsikis was a staunch supporter of late ayatollah Khomeini.He had organized three international conferences in Athens and Tehran for dialogue between Greek Orthodox Christians and Iranian Shia scholars.
He is also a supporter of the Turkish spiritual leader imam Fethullah Gülen and a member of Gülen's Hizmet Brotherhood which he has publicized through his publications and lectures.
Below is an official Iranian list of 13 prominent worldwide personalities of Khomeini's supporters, including Kitsikis.(You may also click on the link below):
http://ijtihad.ir/NewsDetailsen.aspx?itemid=2290
فارسی
English
العربيه
Home » English News
Khomeini in the viewpoint of important personalities:
Publish Date: 2013/06/01
1 - Ayatullah Sayyed Ali Khamenei
Supreme Leader of the Islamic Republic,
as the firm follower of Imam Khomeini has always spoken of the
power and glory of the Imam and described his management as follows: "He was the full exemplar of a Muslim and an Islamic leader.
2 - Martyr Ayatollah Sayyid Muhammad Baqir Sadr
Among the great prophet's followers there are a few who left such a great impact on the society.
3 - Ayatollah Abdullah Javadi Amoli
Imam Khomeini was one of the greatest deputies of the infallibles.
4 - Rashid Ahmad Joghtai
The head of Pakistan's council for unity:
He said that Imam Khomeini frequently highlighted significance of harmony among all Islamic sects and divine religions.
He also suggested that Imam Khomeini should not only be considered as a religious and spiritual leader of the Muslims, but all humanity.
5 - Richard Falk
An American Professor, internationally reputed academic and an American activist:
Richard Falk says he was deeply impressed by unique wisdom and intelligence of Imam Khomeini during an exclusive meeting in France.
It is noteworthy that Richard Falk is Albert G Milbank Professor Emeritus of International Law at Princeton University and Research
Fellow, Orfalea Center of Global Studies. He is also the United Nations Special Rapporteur on Palestinian human rights.
6 - Mikhail Gorbachev
The head of the former Union of Soviet Socialist Republics:
Gorbachev says that he was deeply impressed and came to conclusion that the founder of the Islamic Republic was deeply concerned about the fate of the whole world and wanted me to become familiar with the Islamic teachings and the Islamic Revolution.
7 - Dr.Burhan Abd alSalam Azimi
the chief justice of Afghanistan's Supreme Court said that Imam Khomeini's thought relieves humanity from crisis.
8 - Dr. Dimitri Kitsikis
Christian thinker and professor of history of international relations from Greece:
For us, Greek orthodox Christians who refute the satanic primacy of western values, Imam Khomeini was an example of a universal
champion for the establishment of truth, instead of material values. However, Western propaganda tried to show him as a fanatic
person but, we know that his personality was full of affection and kindness towards the people of the world, those who move on the path
of God and reject the predominance of material values.
9 - Doctor Mahmoud Mustafa Ayoub
Professor and Chair of Islamic Studies in the Department of Religion, Temple University, Philadelphia, America.
I believe that Imam Khomeini will be presented by history as a global character of twentieth century. Because, he was a man that had both political and religious genius.
10 - Rajiv Gandhi Prime Minister of India (1984–1989)
When Imam Khomeini passing away, world has lost a great spiritual and revolutionist leader that had large minded.
11 - Imam Bukhari Muslim Leader of India
Imam Khomeini was a pious, jurisprudence and history maker in last century.
He was a hero.
12 - Nelson Rolihlahla Mandela
Former President of South Africa (1994 1999):
Imam Khomeini was the famous son of the Islam. He has had a considerable role in showing the direct route to present and future generations of Muslims.
13 - Professor Hamid Mowlana
Imam Khomeini was a man who fascinated peoples with his own words. He spoke language of ordinary people and, gave self confidence to his poor and disadvantaged supporters. constitution on his person.
Source: ijtihad network
www.ijtihad.ir 2013 Copyright © , All Rights Reserved.
Chronological biography
1935 – Dimitri Kitsikis is born in Athens
1947 – Departure for France
1947-1948 – École des Roches in Normandy
1948-1952 – Lycée Lakanal in Sceaux
1952-1953 – Lycée Carnot in Paris
1953 – Obtains French Baccalauréat in Paris
1953-1954 – 1st year both in Medicine and Arts at the Sorbonne in Paris
1954-1955 – 2nd year in Medicine at the University of Geneva
1955 – Wedding with Anne Hubbard in Scotland
1955-1958 – Graduates with an Arts degree from the Sorbonne in Paris
1958-1962 – Doctoral studies at the Sorbonne in Paris
1960 – Birth of first daughter, Tatiana Beata, in Paris
1960-1962 – Research attaché at the Institut Universitaire de Hautes Etudes
internationnales in Geneva
1962 – Birth of first son, Nicolas, in Paris / Obtains Doctoral degree from the
Sorbonne in Paris
1962-1965 – Research attaché at the Centre de Relations internationales (CERI)
of the Fondation Nationale de Science politique in Paris
1965- At the 12th International Congress of Historical Sciences in Vienna
1965-1970 – Research attaché at the Centre National de la recherche
scientifique in Paris
1962-1970 – Teaching assistant at the Sorbonne in Paris
1968 – Active participation in the student revolt and dismissal from the Centre
National de la recherche scientifique and the Sorbonne, in Paris
1970 – Associate professor at the University of Ottawa
1972 – Tenured professor at the University of Ottawa
1972-1973 – Visiting Professor at the Laval University in Quebec City
1972-1974 – Resident senior researcher at the National Institute for Social
Studies in Athens
1973 – Divorce with Anne Hubbard
1975 – Wedding with Ada Nikolarou in Ottawa / Unofficial ambassador of
Greece in Cyprus and Turkey
1976-1978 – Visiting Professor at Deree College, the American University in
Athens
1979 – Birth of second son, Agis Ioannis, in Ottawa
1980-1981 – Visiting Professor at Boğaziçi University in Istanbul, during which time he taught Ahmet Davutoğlu,the future prime ministre of Turkey.
1981 – Citation for Valuable Achievements and Contributions to the Study of
Ataturk's Principles, Boğaziçi University, Istanbul
1982 – Birth of second daughter, Kranay Maria, in Ottawa
1982- Conflicting Conceptions of Detente in a Period of East West Tension,+ International Conference on NATO in the 1980's, Turkish Political and Social Studies Foundation (SISAV), Istanbul, Turkey, October 4 6, 1982.
1983 – Promotion to full Professor
1986 - Invited to the First World Congress on the Synthesis of Science and Religion, January 9-12, Bombay (Mumbai),India
1988 - Participation in the Conference on Greek Language and polytonic writing, with Dionysios Savvopoulos - Athens
1988 – Representative of the Mayor of Greek Sparta to Isparta, Turkey
1989 - Invited by the Government of Iran to the funeral of Ayatollah Khomeini in Tehran
1990 - Invited by the Government of Iran as a participant to the First Congress of Islamic Forces supporting the Palestinian Cause against Israel
1990-1993-Close advisor of Turgut Özal, president of the Turkish Republic
1990-1991 – Vice President, Association des Auteurs de l'Ontario
1990-1994 – Organizer of the First, Second and Third International Symposiums
on Orthodoxy and Islam, Athens and Tehran
1991- Nominated University of Ottawa for Excellence in Research
1991-1992 – Visiting Professor at Bilkent University in Ankara
1991 – Abdi İpekçi First Prize for Poetry
1995 – Elected representative of Greece to the International Committee of the
Association des Amis de Maurice Baumont (1892-1981)
1996- Invited by the Turkish Department of the University of Strasbourg,France
1996 – Officially retires from the University of Ottawa / Elected Professor
Emeritus
1999 - Invited to Tehran, by the president of Iran, Muhammad Khatami, to attend the Congress on Dialogue Among Civilizations
1999 – Elected member of the Royal Society of Canada
2000 – International observer at the national Yugoslav elections in Belgrade
2005 - Invited in Moscow to the Turkish-Russian Congress on Eurasia
2005- Invited by the prime minister of Turkey Tayyip Erdoğan, together with the Ecumenical Patriarch Bartholomeus,to the Dialogue of Civilizations Congress, in Hatay, Antakya
2008 – The Dimitri Kitsikis Public Foundation is officially established in Athens
2010 - Award Homo Hellenicus, Society of Greek Benefactors for his contribution to the Development of Hellenism worldwide
2010 - Visiting professor, Sun Yatsen University (Zhongshan), Guangzhou (Canton), China
2011-Visiting professor, Gediz University, Izmir
2011 - Award for exceptional scientific contribution, Gediz University, Izmir (14 December)
2011- Invited by Alexander Dugin, Lomonossov University, Moscow,in order to synthesize Dugin's Eurasianism with Kitsikis's theory of the Intermediate Region (December)
2012 - Main speaker, Conference on the Spring Revolution, Bilkent University, Ankara (March)
2012 - Speaker, Seminar on "The Importance of Ancient Indian Culture for the Building Up of a Better World", 23-25 May, Kolkata Indian Museum (Calcutta, India)
2012 - Speaker and main organizer of Symposium, "Let's Meet Again. We are the Greeks", Heraklion, Crete, 21-23 September.
2012 - Special Distinction to the Dimitri Kitsikis Foundation, honoring its contribution to the spreading worldwide of Greek Values,Society of Greek Benefactors.
2012 - Main speaker on "The Big Greek Expansion to the Frontiers of the World and the Contribution of Greeks to the Homeland of Hellenism", Symposium,"Building a New Greece and a Better World through Benefaction", Piraeus, 30 September and Athens,October 1.
2013 - Invited to Izmir for the 90th Anniversary of the 30th January 1923 Lausanne Convention on the compulsory population exchange between Greece and Turkey, as speaker with the following subject: "1923 Population Exchange Between Greece and Turkey The Aftermath"- Swiss Hotel Grand Efes, Izmir, January 30.
2013 - Member of the Scientific Editing Committe of the Journal of Modern Turkish History Studies, Dokuz Eylül Üniversitesi, Izmir.
2013 - Represented the Dimitri Kitsikis Foundation as main speaker to the 2013 11th Rhodes Forum, organized by the Russians, 2-6 October, under the presidency of Vladimir Yakunin This 11th annual forum of the Russian Dialogue of Civilizations particularly honored the Foundation through its President Dimitri Kitsikis.
2013- Invited by the Sorbonne-University of Paris,as member of the jury of the doctoral thesis of Marc Lambinet (7-13 October).
2013 - Invited to Heraklion, Crete, as main speaker to the Vikelaia scientific conference for the hundred years of the Union of Crete with Greece (23-26 October) and at Sahini's Crete-TV program "Antitheseis"(25 October) as well as at Heraklion Radio 984 program of journalist Mrs Doulgeraki (30 September to 21 October).
2014 - Invited to the international meeting in Saint Petersburg (29-30 March), at the highest level, at President Putin's initiative with the aim to condemn the antisemitic Kiev regime supported by the USA.
2014- From the 18th to the 23rd of August, Petros Iniotakis, vice-maire of Heraklion, Crete, invited Dimitri Kitsikis to his city in order to register on cd Kitsikis's souvenirs, with the aim of publishing a book on his life. During his stay in his mother Beata's birth town, Dimitri Kitsikis gave several interviews to the local media.
2014- Invited as main speaker to the 12th Rhodes Forum, 25-29 September, under Vladimir Yakunin's presidency, during which he gave an interview to the media.
2015- Invited to the USA, to the Russian Saint Trinity Monastery, Jordanville, New York, and by the Informed Orthodox Citizen Initiative Public Forum, Utica N.Y., as speaker, on the subject of the Ukranian crisis, 15-18 April.
2016 - Invited to Istanbul, for meetings with Turkish personalities and for interviews with the Turkish media, as well as for the signing of agreements pertaining to the publication of two of his Turkish books by Sebil Yayınevi Press, 22-29 April.
2018 - Invited to give a conference in Ottawa to the Society of Friends of Canada and France, on «Le génie de la France», 18 March.
2018 - Invited to give a conference, in Sparta,Greece, to "Oinokrates",on the "Secret Brotherhood of Mystras, of the Philosopher Plethon", September 3, 2018
2018-Πλήθων-ἀφίσα ὁμιλίας Κιτσίκη στὴν Σπάρτη
2019 - Invited to give a conference in Sparta-Georgitsi,Greece, in the Spantidos open Greek Amphitheater, on «Plethon, the founder of Western Civilization», August 24, 2019
2019-Ὁμιλία Κιτσίκη στὸ Ἀμφιθέατρο Σπαντίδου, Γεωργίτση 24 Αὐγούστου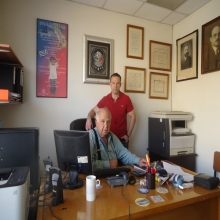 Dimitri Kitsikis at his IDKF office in 2013 with his son Agis Kitsikis, in Athens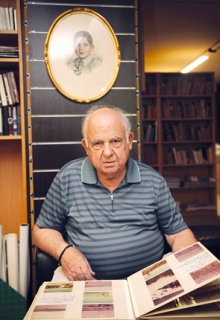 Dimitri Kitsikis in 2018 in the IDKF offices in Heraklion, Crete.Behind him,a portrait of him in 1940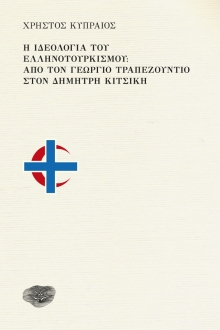 Dimitri Kitsikis and Hellenoturkism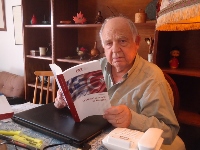 Dimitri Kitsikis in Athens in 2019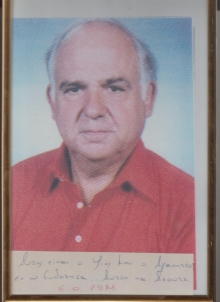 kitsikisism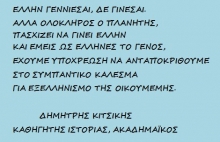 One is born,not becoming, Greek.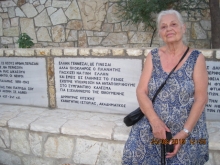 Ada Kitsikis in 2019