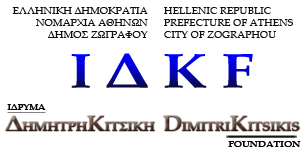 Friday December 1 2023, Athens Greece
Short Biography
-
Full Biography
-
Interviews
-
Autobiographies
SPIRITUAL WILL & AUTOBIOGRAPHY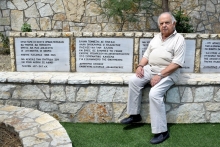 Spandidos Greek Amphitheatre, Georgitsi,Laconia. Inscribed on the stone:"One is born Greek. He does not become Greek but the whole planet tries hard to become Greek and we as Greeks are obliged to answer the universal call for Hellenization of the Universe. Dimitri Kitsikis"
1)
burial on Çamlica Hill
Kitsikis relation to Camlica
2 -
Poem to be engraved on Dimitri & Ada's common tomb-2011
3 -
2011-Gediz University- Ce n'est qu'un au revoir!
Dimitri Kitsikis at Izmir Gediz University, in 2011
4 -
Last page of D.Kitsikis' French autobiography manuscript
Last page of a 26-page manuscript bound by a French artist bookbinder of Marseilles, France, in 2013, in a series of 26 Francophone writers of the Mediterranean Basin. Each letter of the Latin alphabet is represented by a Mediterranean country through a single writer with the name starting with a correponded letter. Only two manuscript copies for each letter have been produced, one for the bookbinder and the second for the author. The above manusript represents Greece and bears on its artistic cover the letter K, for Kitsikis. It has been stored in the DK Foundation Library.
5 -
D.Kitsikis's Confessions French Typed Copy
Here is the above 26-page text transcribed in a taped form:
Confessions d'un père à sa fille
------------------------------------------------------------------------------
6 -
D. Kitsikis' Poem for Ada-2014
A poem in French for Ada Kitsikis
7 -
Ada in 2015 speaks in Greek to her father dead in 1987. French translation by Dimitri
Lettre à un père mort
8- 1993 - Postface du livre-poème de Dimitri Kitsikis, Le paradis perdu sur les barricades, Éditions Akritas, ISBN - 960-7006-94-1
Un jour, la trajectoire de mon étoile se terminera et je reviendrai au point de départ: la France. Son génie m'a inspiré tout au long de ma vie. C'est la raison pour laquelle je l'ai reniée avec passion. Elle m'avait enseigné à ne jamais répéter, à ne jamais copier,à toujours tout remettre en question, à prendre les chemins de l'esprit les plus ardus,les plus inconfortables, qui attirent la réprobation universelle.
France, si douce à ma caresse, je t'ai reniée, je t'ai haïe. J'ai été l'opposant farouche de tes croisades, l'ennemi résolu de ton Occident franc. Et c'est seulement ainsi que j'ai été ton amoureux fidèle, que grâce à ton esprit, j'ai pénétré le monde, en Grèce, en Turquie, en Chine. A la face du ciel, tu as dressé une multitude de contestataires qui ont rejeté jusqu'à leur être même et le plus grand de tous, le plus pitoyable des pleureurs, aussi sincère et profond qu'un lac glaciaire, Jean-Jacques le Saint, qui répondait au nom vulgaire de Rousseau.
France,pour tout le mal que je t'ai fait, un grand merci.
Δημήτρης
9 - Sens unique
Dimitri Kitsikis 25 octobre 2017
France douce
Suit l'eau qui coule le long de la Loire
Tandis que Chartres murmure
Et Jeanne à Orléans
Fête sa victoire
Je reviens au point de départ
Le point du cœur
10 -
La France, fille aînée de la Grèce
11 -
Ada,le rocher de ma vie, Pierre sur laquelle j'ai construit mon Église (p.1)
Ada, le rocher de ma vie (p.2)
12 -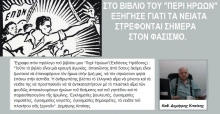 Kitsikis and Fascism