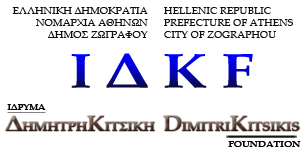 Friday December 1 2023, Athens Greece
THE DIMITRI KITSIKIS FOUNDATION
The Dimitri Kitsikis Foundation is a public institute based in the district of Zographou in Athens, Greece. It was established in 2008 during the mayorship of Giannis Kazakos.
Named in honor of Professor Dimitri Kitsikis, a scholar of international stature specializing in the fields of geopolitics and history of international relations, it holds the personal library and archives of Dimitri Kitsikis. The Foundation is a research center of geopolitical studies.
The mission of the Foundation is to serve the public good by promoting research and education, both in Greece and abroad. In accordance with the teachings of Professor Kitsikis, it aims at globalizing Greek thought in the present world and – independently of partisan positions – encourage, on an international level, dialogue among cultural communities.