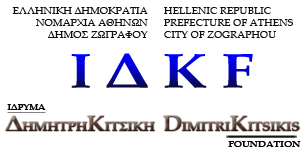 Friday December 1 2023, Athens Greece
THE DIMITRI KITSIKIS LIBRARY
The Dimitri Kitsikis Library holds the bulk of the personal library and archives of Professor Kitsikis. These constitute not only the Foundation's most valuable possession, but are also the essential justification for its existence.
As an official Research State Library since September 2008, it constantly enriches the original collections with new material from donations, subscriptions (e.g. to periodicals) and various other sources. In the future, the remaining part of the Professor's personal library and archives will be added in order to complete the ensemble and form the most comprehensive body of material pertaining to the life and work of Dimitri Kitsikis.
Personal library
The personal library – which consists of more than 10 000 books, as well as an extended collection of newspapers and periodicals (more than 10 000 issues of about 285 Greek and 455 foreign titles, as well as many actively running subscriptions) – spans a surprisingly wide range of topics in many languages, but mostly in Greek, French, English, Turkish, German and Russian. An important part of the material is inscribed with Kitsikis' personal handwritten remarks, comments and research notes, which serve as a testimony to his lifelong work and are therefore of considerable significance for research purposes.
In addition to the main topics covered – i.e. European history, Greek-Turkish modern and present day history, international relations, geopolitics and religion (mostly Christian, Muslim and Hindu) – many collections also encompass other fields (e.g. Chinese history, philosophy, art, official state proceedings and diplomatic documents, literature, etc). Lastly, the library contains encyclopedias (Greek, French, Turkish and English) and dictionaries used by Dimitri Kitsikis, as well as, all of his titles and contributions to collective works.
Archives
The following comprise the archives' most noteworthy material:
His research, lecture, travel, conference, and various other background notes


Personal documents, mail & correspondence


Regarding Greece, Turkey and Cyprus: an extensive collection of clippings from Greek, Turkish, English and French newspapers with research notes


Audiovisual material


Microfilm reels containing,

19th century Greek newspapers
Archives of the Greek Ministry of Foreign affairs, in Athens and in three Greek Embassies (Washington, London and Paris) for periods between 1910 and 1960
Personal archives of eminent 20th century Greek personalities
Archives of the Center of Asia Minor studies of Athens

Video and audio tapes with interventions, shows and interviews of Dimitri Kitsikis
A series of mini audio cassettes with recordings from discussions between Dimitri Kitsikis and foreign politicians and businessmen



Electronic Archives: Digitized monumental works and sources of Hellenism: Antiquity, Patristics and Byzantium (donated by K. Dounetas)


A collection of large historical wall maps


An important set of family and work related photo albums, his many typewriters and smoking pipes, diplomas and awards, music vinyl records and audio tapes, miscellaneous personal belongings